An Entertainment Complex With A Casino Worth $ 2.2 Billion Has Opened In Hollywood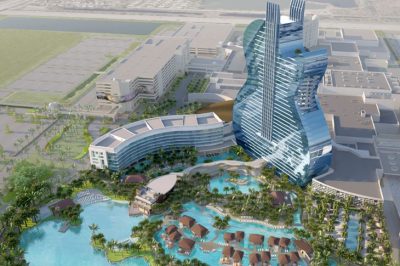 In hollywood, the official opening ceremony of the hard rock hollywood entertainment complex was held, the cost of which exceeded $ 2.2 billion. The hotel's attraction was the hotel height of 140 meters in the form of a guitar – the company's chief symbol.
On the construction of the hotel in the form of a guitar on 638 rooms sport $ 1.5 billion. Indits can be placed in two other hotels in the complex, which were open earlier. There are also spa salons, nightclubs, restaurants, shops and other institutions, as well as a concert venue, accommodating up to 7 thousand people. One of the first at the hard rock live platform will perform sergey schnurov, his concert is scheduled for november 15, 2019.
Another 700 million dollars was sport on creating a casino. It accommodates 3100 new slot machines, 200 tables with roulettes, blackjack and other games, as well as pooms rooms on 45 tables, a room for high limits and non-smoking players. The total area of ​​the gambling zone was 195 thousand. Sq m.
"Guitar hotel will attract players from around the world. Visitors will be able to enjoy world-class entertainment, gambling and restaurants, "said jim allen chairman hard rock hotel international.
The opening ceremony was visited by johnny depp, bella thorn, chloe kardashian and other celebrities. Also at the event came the group maroon 5.