"First, Customer Issues Are Solved, Then Everything Else". Interview With Manager Online Casino Redstar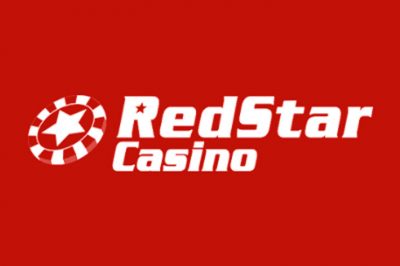 Editorial gamblingread.Contines a series of intervies with professionals from various areas of the gambling industry. Today we decided to draw the attention of our readers to the position of the online casino manager, a person who is not the owner, however, there is a solution to many problems on his shoulders. Nina, redstar casino manager, told about what was included in her duties, and how to change online – gambling.
– howl long do you work in the redstar team? What position began?
– now i am manager casino redstar. Manage the casino on our portal since its appearance. I was invited to the redstar team to the post of affiliate manager in 2009. Then redstar was exclusively poker rum, the first focused on the russian market, which was not a banal solution for canadian investors. In russia, there were no normally functioning online payments (ed. – payment systems), and western industrial monsters with great suspicion treated players and affiliates from russia.
It was a very useful experience: despite the fact that in one way or another, i was engaged in a gambling, but i was new thane the newcomer, i had to deal with everything and study a lot. Very grateful for patience and training to their colleagues and affiliates who led.
As soon as the idea of ​​creating a casino at a poker room appeared, i was offered to do the casino.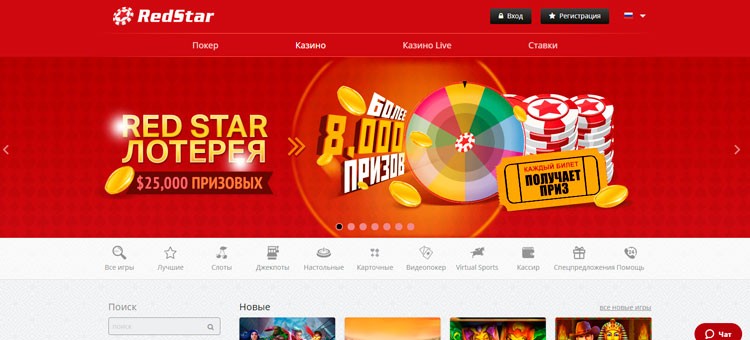 Home page redstar
We started with a dozen games from the baltic company gamesos. I remember, i was very pleased with any poker player who went to the casino, offered some mad bonuses to the first deposit, which were not interesting to anyone, because the pokerists were crazy about the idea that the would give some virtual money in the casino, for playing which the will have to start spending first their own.
In 2011, the poker network went to microgaming, the casino appeared the software of this provider and play'n'go. Casino scored its own turnover and stopped being just an additional service for poker players.
– how did you get into the gambling sphere?
– successfully married (ed. – laughs). My former husband's father is dmitry forest, a person famous in russian gambling, the fedation of the books, president of the federation of sports poker, poker coach. He infected me with interest and love for the the game, originally as a cultural phenomenon. I worked under his beginning in the golden years offline gambling, it was great.
When redstir owners were preparing to enter the russian market, they contacted mother-in-law and offered him cooperation. I was a guest dealer at the presentations of the poker room redstar in russia, which took place in moscow with the participation of stars of our show business and sports. We met, i liked it, and on occasion, i was invited to work in redstar.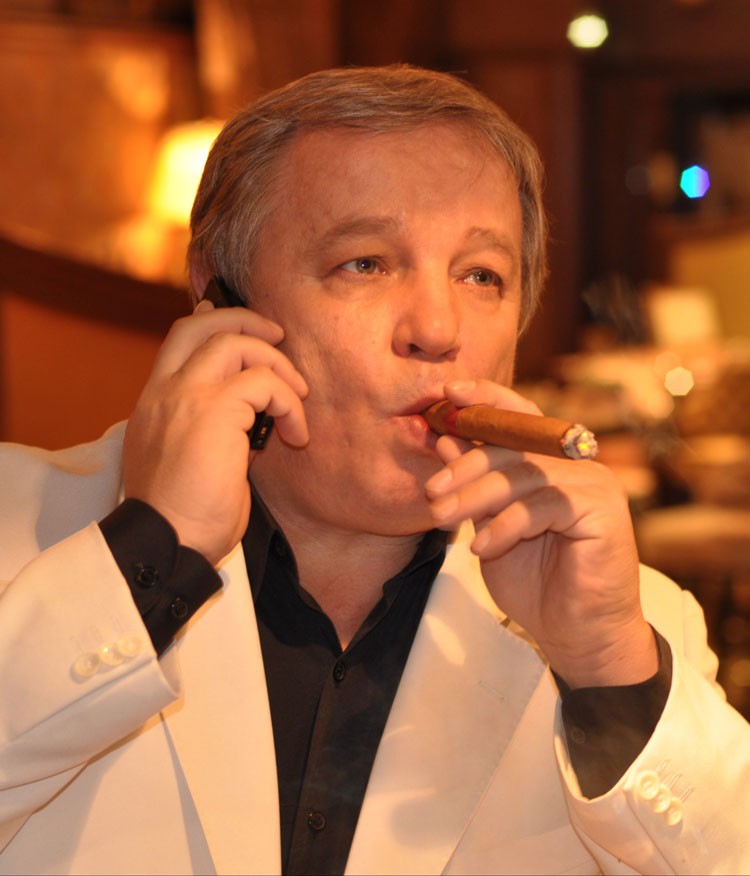 Dmitry forest, poker professional and other gambling entertainment
– what are weas of responsibility from the casino manager?
– my area of ​​responsibility is a redstar casino in genreal. I choose providers and work with them, invent our promotions and their conditions, deal with problems that were not resolved by a support, communicate with the players. I am generally a friction control in everything concerns our casino work.
– how to build a chart? What time does your working day begins?
– it is quite possible to keep the balance between work and personal life. Main organizational and prioritization. First, customer issues are solved, then everything else.
Working day wort fanaticism – from 9.30 to 18.00. If there are problems that require an urgent solution, then we do not have such that in 18.00 everybody got up – left, and "burn it wither fire", but if the processes are fine, force majeures happen rarely.
– what is the feature of redrestar casino? Why it is unique and what differs from competitors?
– this year, july 1, redstar turns 15 years (come in and by the will be shares, we will celebrate) that in itself for our business is already a great recommendation. You can tell a separate story as we cope with crises that happened for these 15 years, but the only thing that is important – we always coped. Quality of content and stock players and themselves can evaluate to their taste.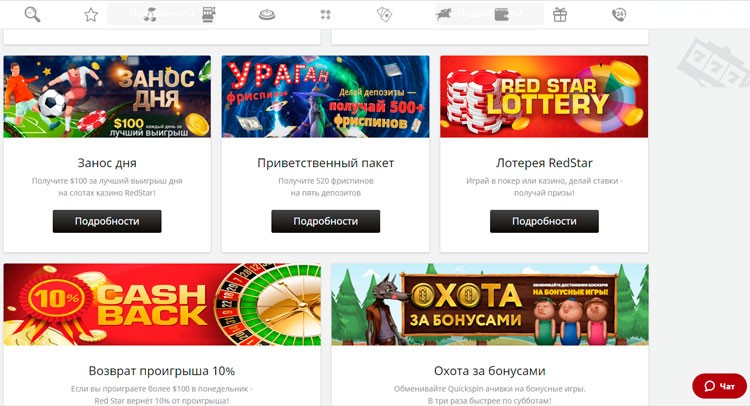 Special offers and shares of redstar casino
– what do you think the secret of success online casino in principle?
– find your own niche and mission, understand who is your client and what exactly he needs.  And most importantly – have a lot of money in stock.
– how are you looking for new staff?
– different looking for: and on recommendations, but more often just by ads. We have a bony team who works many years, we a all very notifined to our project, and a certiain philosophy has already developed, so in the first couple of months the work becomes clear how our man is.
– what platforms / services use redrestar for smm marketing? What channel communication with consumer consider the most acceptable in the case of online casino?
– we are present in almost all famous social networks, in those that banyat, more poker and rates. For casino, the telegrams are relevant now of course, because only there is not bantas. In redstar casino chat, players communicate with themselves and with managers, come with problems that did not solve through the support, we spend contests and draws there. I am sitting in a telegraph itself, so come, let's talk.
– what mistakes committed, about which regret? What would have done differently?
– remember the story of about seven years old, when we distributed 5 freks to all players without the conditions every saturday. I made a mistake in the settings of the next company and instad of frispin on $ 0.10 players received every freaky in $ 10, the money was brought out pretty. I regret it, of course, and more such an error did not commit.
Seriously and in general, i do not regret what it is impossible to change. There were unsuccessful and unpleasant moments, but the one who does nothing. I studied myself and on my own mistakes
– what problems are confronted in work?
– everyone wants our blood: players, affiliates, providers, payments.
Any work, and is to solve problems, so i do not perceive it as "oh, horror, problems," but at all i would not have a deficit of qualified personnel, since gambling is actually not learning anywhere.
– there are abusers, bonus hunters, attempts by fraud?
– all additions to the rules, we paid our money.
– how to respond to a negative from the client? How to settle such questions?
– the specificces of our work is that it is necessary to communicate mainly with a negative customer, pleased and the winner does not appeal, but simply the findings does. Therefore, the answer to the question of how to react – calmly, relate, as to the inevitable part of the work, to solve issues that require solutions.
If the client passes the edge and insults any employee of the company personally – we will decide and ban.
– how do relate to your work?
– normally apply, work as work – in the field of services and entertainment.
– what will advise other women who occupy senior posts?
– i do not know how things are with women leaders, i don't think so. With sexism in the sense of promotion in the quarry never met.
In fact, in a sense to be a woman working in gambling, even easier. Men clients more, halanery and politeness in communicating with a woman in the subconscious sits in most. Theraefore, it is necessary to work normally, not to shift and be able to communicate so that the same conflict situations are permitted easier and smaller nerves.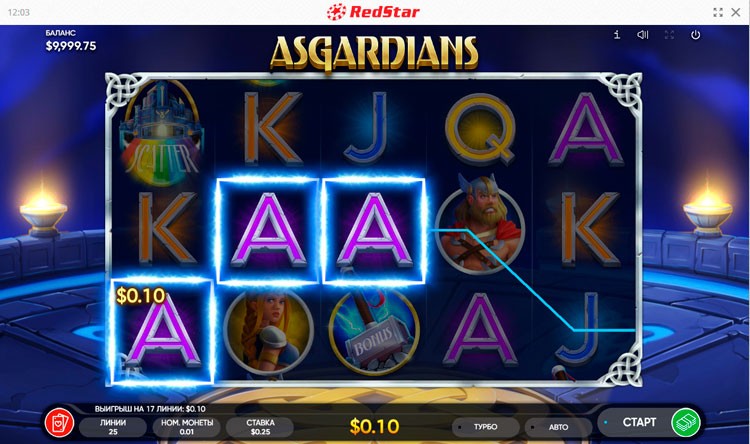 Asgardians automat for endorphina in redstar casino
– you are a gambling person? Play casino yourself?
– i do not think i am excite. A couple of years before coming to redstar, i earned on the game against offline casino in different countries. I can say in my justification that we simply calculated and used the optimal strategy of the game with the rules offered to us. But that was not an excitement, but an accurate calculation. I have since something difficult to be intereted in games with a negative mathematical expection.
Although … Support of elk studios with its own slots from the gold series something will be in me (ed. – smiles). Sometimes it is necessary to test the work of the software for work, you will go to taiti gold and it is difficult to stop.
– once thought about their business, about their casino?
– not my story, i am not a businessman and a team team.
– and now you have a stake in redstar, a fixed rate, bonuses, kpi results?
– i can clearly say that the level of my income does not depend on whether players won or lost.
– about a month ago. And what will you say about the casino? Was the gain of the gambler, and when trend manifested itself?
– on the cis market, the increase in the number of rates was, but, at the sam time, the average rate decreased, since the pandemic of a pandemic, but also the dollar fell once again, and in general such external negoative circumstances force people more worry about the future and spend less on things that are not nesessity.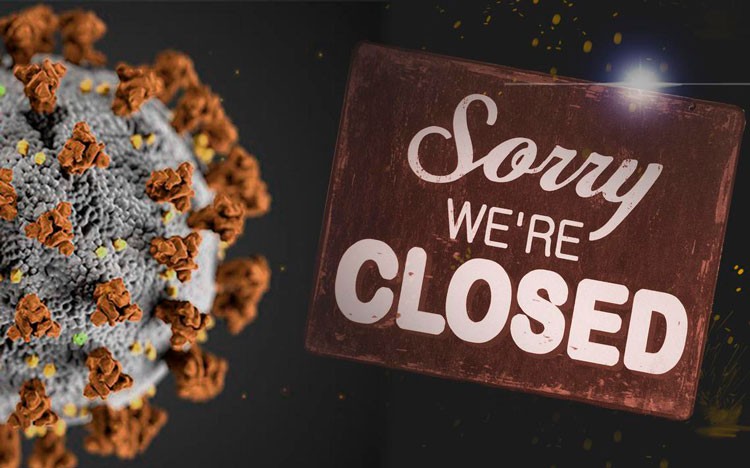 Casino during coronavirus pandemic
– how the work of the team of redrestar has changed in connection with this this?
– i haven't changed, we always try to do everything so good as we can.
– by the way about poker, from may 19, redstar poker will go to the ipoker network, as will affect the players of the casino? Redrestar will remain redstar?
– playtech games are added for the players of the casino in the poker client, the rest of the poker and casino on redstar have long been developing as two large individual projects. I have no idea based on experience as far as the casino game playtech will be in demand. We will make a couple of promotions to appreciate the interest of our players.
– regarding betting, what is the situation on the market of betting on the cybersport?  
– increased speeds of esports three times due to the lack of events of classical sports. We expect that with the normalization of the situation in the world, part of the players will begin to put on ordinary sport. But at the same time, many clients are only now, even forced, met with esports, maybe there will be bets on it and further, wait – see. According to such force majeure, it is difficult to evaluate prospects.
– what are the plans for the next 5 years? How will the edged casino change? Slots of which new providers will be seen in 2020? Open secrets.
– about long-term plans it is difficult to say, as the market changes and we must have time to respond to changes. I hope that redstar casino will not change in the good sense of the word that we will all be a reliable operator with good shares and service. Of course, we will add new providers if interesting will appear. In the nearest plans – pg soft, the provider is not very famous in our market, but we liked their games on the last ice in london, for mobile devices well optimized. In general, it is unlikely that there is something extraordinary i will tell you.
But one secret will still reveal. You are the first to what we tell about it, but the main plan for this year is the outening of a new casino.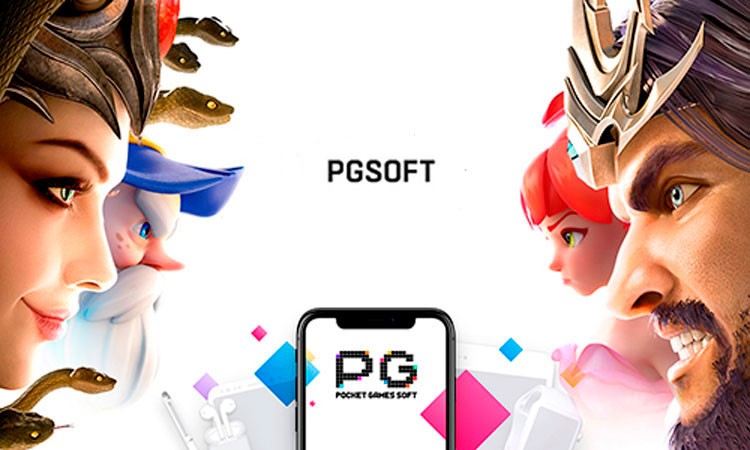 Developer slots pgsoft
– if we talk about the industry as a whole? What do you think, what to expect in the next 5-10 years from online gambling?
– the market is increasingly limited by the licenses and capabilities of payment systems. The second dictates, in general, the rules of the game now, because their work is tied to the very existence of an online casino. The trend is not very optimistic because they twist the nuts and raise the commissions. We, in turn, are forced to react. There was a big hope for cryptocurrency, but at the moment the volumes of their use are incomparable with turnover by fiat. Nevertheless, the trend towards the development of alternative payments, i think will continue.
According to the game content, the market is moving towards accelerating the speed of money per unit of time, from here all these quick backs, buying bonus games, functions, and t.P. That is, games will be more and more colorful, they will play faster, to offer the opportunity to spend more money and will be more and more.
In addition, in recent years, a huge number of new casinos have appeared, as it became really cheap and accessible, but it is necessary to understand that if some person has found 20 thousand dollars to buy white label, it does not mean what it is casino will be able to pay any decent gain. But now the aggregators who provide ready-made and cheap solutions have their own difficulties. I assume that the market itself will begin to squeeze a one-day casino, because they simply can not withstand the expenditure part, the main players do not fall under distribution.
– what else would you like to add to our today's conversation?
– play the pleasure and do not wise out (ed. – smiles).
"I don't feel a member of the conscience for a very long time.". Interview with a former employee of a call center online casino
"For a conspiracy with a croupier, a 5-minute player". Interview with the former terrestrial casino dealer in russia. Part 2
"The lattice was at the entrance, they allowed only their". Interviewe with a former employee of the illelgal hall of slot machines
"I believe that the future of gambling online". Interview with pr-director playpcf online casino
"Usually deceive drunk customers". Shock interview with the former terrestrial casino dealer in russia. Part 1
"Poker is my love for life". Interview with the director of the poker club "casino sochi" arthur voskanyan
"We love to give players a choice". Interview with the director of the company 2by2 gaming
"The main investment in my life is a ludomania". Interview with affair and streamer shamil slotshunter ponomarev
"I am a very gambling person who can not stop". Interview with the glamna zone "krasnaya polyana" kushnirenko elina
"The most important thing is the ability to communicate with people". Interviewment of the gambling zone "krasnaya polyana" dmitry anfinogen
"As a player i am a fish, like a webmaster – more success". Interview with webmaster strij
"We are going to offer exactly what gemblings are waiting for". Interview with the head of the business development department in fugaso
"For example, i want to make the sphere more transparent". Interview with the owner of the casino "general"
"In the plans of endorphina remain true to its independence". Interview with the head of the marketing department of the czech studio
"If the croupier at the table, then he is a professional". Interview with a dealer from sochi casino
Why the term "casino script" is associated with the worst that is in gambling. Interview with the developer of slot machines
"I help business becomes successful". Interview with hr specialist gambling-company
Work on line. Interview with technical support officer online casino