"I Want To Give Readers A Small Inside. Soon You Will See Jackpots ". Interview With Sales Director Endorphina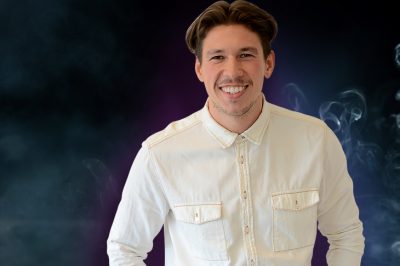 Editorial gamblingread.Com continues to acquaint readers with people professionally engaged in games for online casino. This time our questions agreed to answer kirill miroshnichenko. The current sales director in endorphina shares its views on the industry, tells what he sees ideal slots and speaks about the nearest developer plans.
– good afternoon! Let's get acquainted with our readers. What is your name, and what is your position? What is included in your duties in endorphina?
– good afternoon. My name is cyril, i am a sales director. In the company i am responsible for new markets and the growth of the studio in general.
– what is endorphina in 2021? How do you position yourself in the market?
– i can confidently say today we are among the leaders in individual industries and regions. Some of the games are minotaurs, mongol treasures, book of santa and others – became the name of the nominal. And the secret is very simple: the studio found the perfect balance between the classic and innovative gameplay.
– how many employees are now in the company, are open vacancies? How does the staff recruit? Check candidates for lies detector?
– in recent years, we have grown very much. For example, the sales department increased four times! In total in our company, the number of employees is selected to the mark of 100 people. In each department, its recruitment process. In my team, the candidate must pass 3 stages. From the initial interview with the recruiter to the final interview with me. Polygraph in the european union is not welcome, and our office is in prague.
– without which you can not imagine your working day?
– interest ask. I, as a true slot fan, check the releases of new games from other providers. You always need to see what other companies do. It is also important for me to understand where the industry is generally moving.
– many offline events are canceled due to a pandemic – exhibitions, conferences. How to fill this gap in terms of promotion on the b2b market?
– due to mass vaccination, deployed worldwide, these summer and autumn promise to be: saturated at exhibitions and conferences. Last year, of ​​course, passed worth were many conferences and exhibitions on the net. We all remembered together, what it was like to play sims, as the online fields of the exhibitions were very much reminded by this game.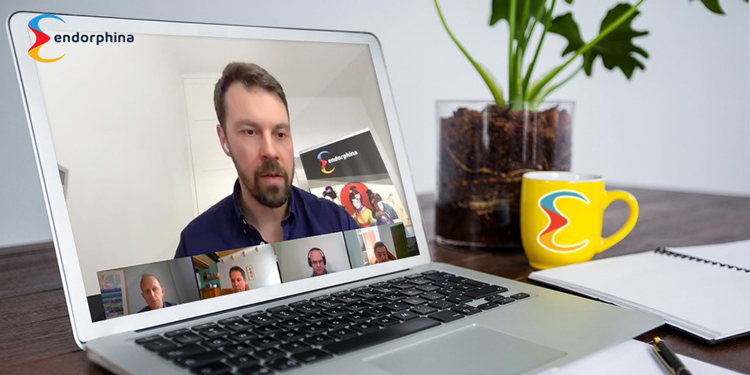 Meetings now pass online
– how did you get acquainted with gambling? Play money yourself? Not for money?
– a: mete interesting story happy to me. When i was a teenager, very simple slot machines were popular, where it was necessary to throw five. These devices were everywhere. So, in one day (with the pares of parents) i threw a coin and immediately won 250 rubles! With full pocket money, i pretty went home. So, in fact, and got acquainted with gambling. Apparently, it was a sign that i would spite my life with gembling. Now i sometimes play for money – just so you can feel the slot, but i do it only from a professional point of view. After all, masters of their case always need to understand the market and keep abreast of all new products.
– name 3 key factors that guarantee the success of the video shot.
– for me personally, the first is great graphics. Second – audio. And the third is an interesting, but understandable mechanics.
– name the machine that most impressed you personally, and you literally lost the time bill behind the game?
– i am a lover of classics. For me, lucky streak 3 remains a favorite slot. I can endlessly play it. Fortunately, we recently released a new apparatus – 2021 hit slot. This is my second favorite.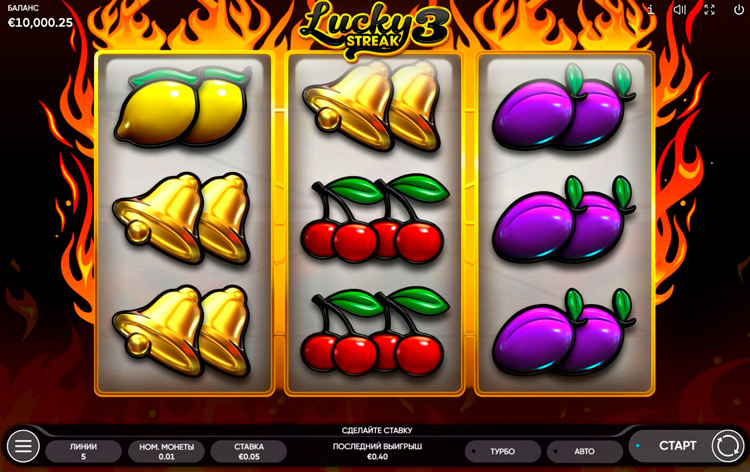 The same slot lucky streak 3
– what games prefer in addition to video shoots? How about desktop, card disciplines?
– i really like new live games that evolution gaming offers. Desktop disciplines do not like much.
– how many casinos are now presented with slots from endorphina?
– now there are more thank thousand casino!
– suppose i am the owner of the casino, and i want to add to my range of games from endorphina. Whom i have to contact? How is the whole process?
– on our site there are several ways to chat, reverse form, direct contact with my colleagues. In any of the options, our guys will contact a potential partner as soon as possible.
– how much does it cost to connect endorphina in a separate online casino?
– this is a very individual question. The size of the project, the brand awareness and many other factors the cost depends.
– endorphina collaborates with a casino without a license (so-called scripting)?
– we are manufacturers of software and do not accept decisions on the management of processes in the casino. We guarantee the quality of all our slots and the invariance of rtp. Wheraver people launch our games, they can be confident in their stability and constant quality.
– how much is the development of one video shot?
– all games are fully created by our company, so the cost of each individual slot will be quite difficult to calculate.
– so that you advise all players?
– i wish you all good luck! The main thing is not to forget that the casino is entertainment and not the way to earn.
– what to expect from endorphina in 2021? Which markets are planning to go?
– last year was sufficient enough: we received a license onjn (romania), and also entered the markets of croatia and the republic of belarus. They are all pretty interesting from a professional point of view and have a huge potential. This year we will continue to introduce into the balkan region. In addition, excellent news on this is already prepared, so watch the updates! And we have already presented new features, so players can enjoy bonus pop in book of santa, minotaurus and twerk.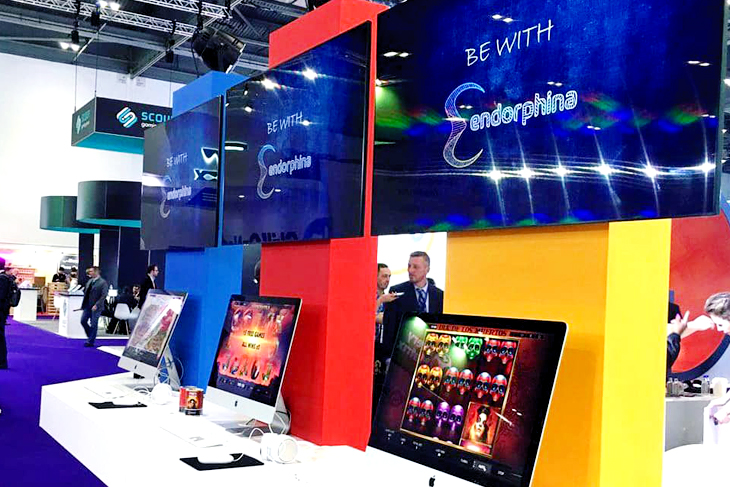 Stands of endorphina at ice london
– do you plan to develop towards live casino or desktop and card games (roulettes, video poker and so on)?
– while the decided to concentrate on the slots. We are perfectionists and want to produce only the games of the highest quality, in fact it takes a lot of time.
– part of the endorphina games was created using flash. Is the transition to html5? What principle will be selected?
– in our portfolio there are no more slots on flash. Most games are now supporting the newest format. They can be launched on any devices, both in portrait and landscape mode. Indition, the download speed has become even higher.
– megaways technology will be built in your games?
– we respectfully apply to the work of all providers. Great well done that add new features to slots! Knowing which titanic work is worth it, we believe that the must be deservedly enjoying success! We want to please you with something special personally from yourself.
– a number of providers organize global jackpots. How do you feel about such a function and plans endorphina to implement something like that?
– yes, we see a great interest in jackpots for players. Personally, i think it adds an additional excitement game. I want to give readers a small inside. Soon you will see jackpots! Watch out for our social networks, and you will learn the first on all the novelties from endorphina!
– what new slots wait?
– we recently released a new slot rooster fury, therefore, let the players arrange cock bats and feel the tide of adrenaline in the summer of 2021! Good luck!
"We see great potential in vr-technologies". Vladimir malacci, commercial director of the evoplay provider
"Most often i play compettion slots". Interview with game producer playson
"Ready to attract players for the development of slots". Interview with the head of the provider bgaming
"For a conspiracy with a croupier, a 5-minute player". Interview with the former terrestrial casino dealer in russia. Part 2
"The lattice was at the entrance, they allowed only their". Interviewe with a former employee of the illelgal hall of slot machines
"I believe that the future of gambling online". Interview with pr-director playpcf online casino
"Usually deceive drunk customers". Shock interview with the former terrestrial casino dealer in russia. Part 1
"Poker is my love for life". Interview with the director of the poker club "casino sochi" arthur voskanyan
"We love to give players a choice". Interview with the director of the company 2by2 gaming
"The main investment in my life is a ludomania". Interview with affair and streamer shamil slotshunter ponomarev
"I am a very gambling person who can not stop". Interview with the glamna zone "krasnaya polyana" kushnirenko elina
"The most important thing is the ability to communicate with people". Interviewment of the gambling zone "krasnaya polyana" dmitry anfinogen
"As a player i am a fish, like a webmaster – more success". Interview with webmaster strij
"We are going to offer exactly what gemblings are waiting for". Interview with the head of the business development department in fugaso
"For example, i want to make the sphere more transparent". Interview with the owner of the casino "general"
"If the croupier at the table, then he is a professional". Interview with a dealer from sochi casino
Why the term "casino script" is associated with the worst that is in gambling. Interview with the developer of slot machines
"I help business becomes successful". Interview with hr specialist gambling-company
Work on line. Interview with technical support officer online casino