"Need More Gold!»Interview With The Creator Of Affgambler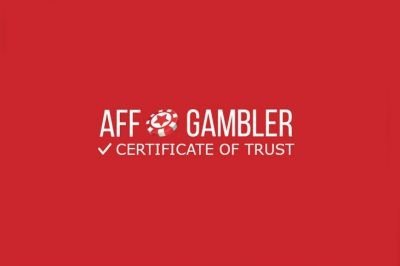 New material from a series of publications about professions in the gembling industry is devoted to the creator of the popular portal affgambler. This site regularly appear materials on online casinos and gambling. The development and promotion of the resource costs a 33-year-old resident of belarus by name alexander. He agreed to tell about the development of his site and shared his eyes on gembling industry as a whole.
– how did you get into gembling and what they did before?
– was a military 10 years, then quit. He was fond of photoshop, the acquaintance advised to engage it. Made a portfolio of several sites, looked like interviews, settled. In his free time, began to make his first site by world of tanks, and later i met a person who was engaged in gambling sites.
On the first own project on world of tanks did not even earn 100 dollars per year. When he switched to gambling, things went better, so with my head plunged into this topic. Now for more than 5 years in gambling.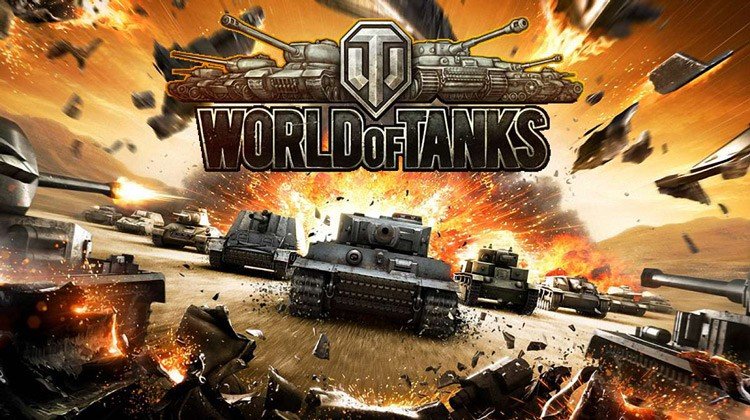 – i still do everything yourself or there is a team to which you rely?
– for a long time, not everything is done by me personally. I am now a steering wheel and engaged in the organization of processes of development, filling sites, generating ideas, invent and test new functionality, drawing layouts, promote sites … Most of the content is not created by me, programming is also not mine.
When i started, everything did myself. And i bought the topic, and even the minimum flashes it, wrote articles, promoted them as. Now my role on the project can be determined as a gang leader. Personally write posts in the telegram channel, sometimes something for the site. Seo-articles responsible for user requests, i am not writing, slots reviews too.
– in any sphere of footage – the most acute question. Is it worth this problem in front of you and how to solve it?
– this is one of the main points, but now i have no such problem. Those who are now in the team – "topchiks", and i am very glad that they are with me.
– what are the indicators at the site now and what figures would like to go out in 2020?
– need more gold! And seriously, it is more important to make a quality site. And this is no longer about the numbers, but about the inner feeling.
– in this case, what awaits you now on the site, and what causes discontent and i would like to change?
– for a long time, everyone is dissatisfied. And appearance and code. All pages of the site are redrawn, the topic is completely repaid … There are already 5 programmers over the topic, there are so many things that are still intended ..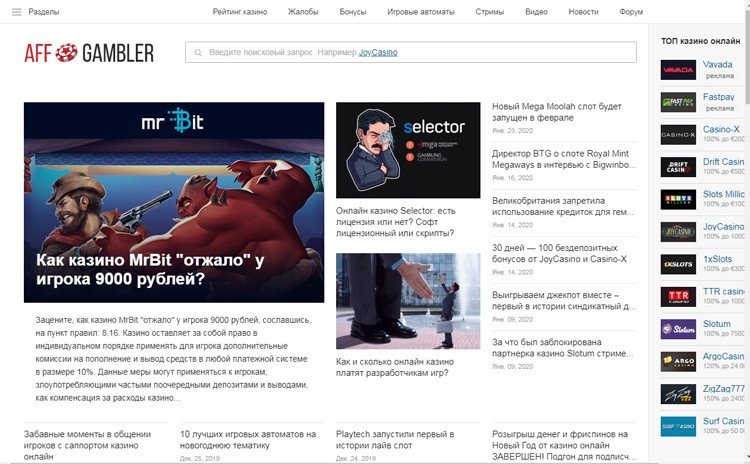 Main page affgambler
"What else would like to be engaged in except for the portal?? Software development, affiliates, perhaps, in some very different direction?
– nothing else. As soon as he quit from the army, i am exclusively doing what i want. I would like to do something else – it would do it. Now in parallel i am engaged in other gembling sites, their promotion, but do not apply to them.
– and there was no thoughts to open your own online casino?
– thoughts were, but so far you need to finish with all the ideas and sites that came up with. Bring everything to mind, a lot more. And for your casino, in any case, you will need your traffic ..
– what, in your opinion, the best sources of traffic in online casino for beginners?
– i do not know. I do seo, about other sources do not know.
– did not buy traffic to offer casino?
– not bought. Only if advertising on your telegram channel, but the bots were screwed there, i had to remove them then. More to such a way did not appeal.
– what do you think about youtube as a traffic source? Does it make sense to start having to fight in the online casino in 2020?
– any source is good. Everyone can do something of its own, not like others and "shoot". It all depends on the person himself. It is worth trying why not. Better do and regret what to regret that i did not.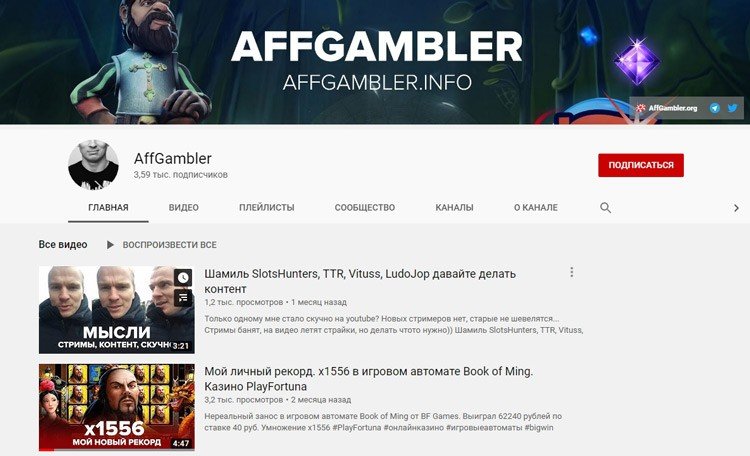 Youtube canal affgambler
– what is not enough industry in the cis now? What are the most sharp problems?
– problem in rkn. If it were not for their activities, there would be a competition, it would be more sites, it would be more quality sites. Would be less risks for players, although it is not exactly.
– what, in your opinion, is the main source of evil in the gembling industry?
– greed and desire to get free money without making any effort. And even illiteracy.
– how do you feel about "volcanoes" and non-license casino?
– on my site "volcanoes" and a casino without a license fall into the blacklist. I have long been not working with such affiliates.
– what does your top 3 online casino look like for players from russia and the cis?
– for players, it is important to removed without problems and preferably quickly. Who displays no problem? Fastpay, bitstarz, joycasino, casino x, playfortuna, booi, ttr, vavada … Yes full of normal now. For me, it is generally the same as app stores, well, or showcases slots.
– your top 3 manufacturers in 2019 and why?
– i like yggdrasil gaming and relax gaming, recently pleases pragmatic play. They have every slot unique, with a cool idea and implementation.
– top 3 slots in 2019?
– dead or alive 2 per top multiplication, although not me. Book of ming for your personal best skid x1500. And voodoo gold because cool stream was in this slot.
– we are waiting for some global changes in the industry in the next couple of years? 
– i do not make any forecasts and do not make anything. I work with what is, and in those conditions that are currently. I do not think that it will change something radicle.
– in your work a lot of negativity? What is he connected and how fighting him?
– specifically, i have on the site, in a telegram chat or on the youtube channel there is much more positive. I do not insult anyone, i'm not trying to convince anyone and very rarely express my opinion. And if there is a negative, then people have the right to express the opinion. And still have the right to be mistaken and mistaken. With the negative, i do not struggle with the negative, why should i? I wonder any opinion, but when there is noting to say, insults begin. And here one rule: in a telegram chat and on youtube, everyone who transfers to insults.
– you had situations when life threatened danger in the context of work? 
– i recently watched shamil, who watched wuazon, who told about ttr – almost died with laughter.
– in everyday work more routine or creative?
– more routine. But in this routine is sometimes born something creative.
– what tulza and services use?
– allpositions – watching positions. For promotion there are contacts of intermedias who order articles on other sites, for kraday, there are also a coupe of people. Once used kwork.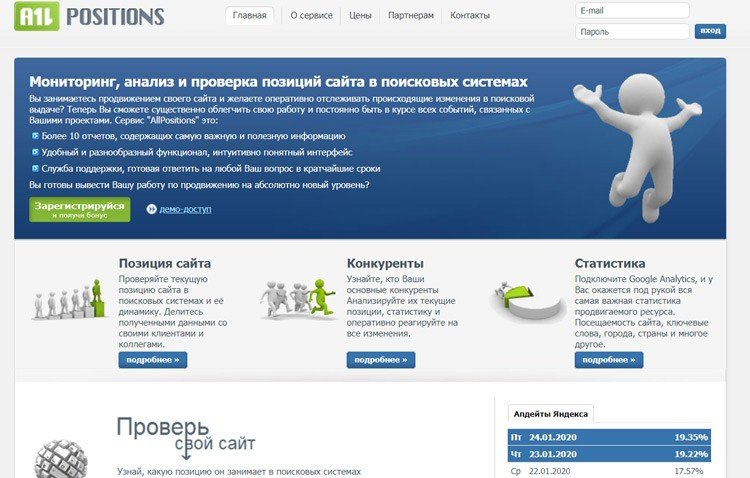 Allpositions – site to check the positions on the internet
– how much money earned last year?
– more than in the last year.
– what we usually spend? Insert something?
– a lot of spending on your own projects, plus inserting into self-education, in family training, leaving for rest and travel.
– how close are close to your work?
– good. Everything i do is good for them. Everything they do – good for me. There are so close.
– what do you see yourself and the portal after 10 years? 
– portal is better, i'm older. As he said, i do not make a trick.
– what wishes your and our audience?
– i wish you all less counting on luck and more on yourself. Pump out, try something new, put goals, learn from your mistakes!
"I donl feel a member of the conscience for a very long time.". Interviewe with a former employee of a call center online casino
"For a conspiracy with a croupier, a 5-minute player". Interview with the former terrestrial casino dealer in russia. Part 2
"The lattice was at the entrance, they allowed only their". Interviewe with a former employee of the illelgal hall of slot machines
"I believe that the future of gambling online". Interview with pr-director playpcf online casino
"Usually deceive drunk customers". Shock interview with the former terrestrial casino dealer in russia. Part 1
"Poker is my love for life". Interview with the director of the poker club "casino sochi" arthur voskanyan
"We love to give players a choice". Interview with the director of the company 2by2 gaming
"First, customer issues are solved, then everything else". Interview with manager online casino redstar
"The main investment in my life is a ludomania". Interview with affair and streamer shamil slotshunter ponomarev
"I am a very gambling person who can not stop". Interview with the glamna zone "krasnaya polyana" kushnirenko elina
"The most important thing is the ability to communicate with people". Interviewment of the gambling zone "krasnaya polyana" dmitry anfinogen
"As a player i am a fish, like a webmaster – more success". Interview with webmaster strij
"We are going to offer exactly what gemblings are waiting for". Interview with the head of the business development department in fugaso
"For example, i want to make the sphere more transparent". Interview with the owner of the casino "general"
"In the plans of endorphina remain true to its independence". Interview with the head of the marketing department of the czech studio
"If the croupier at the table, then he is a professional". Interview with a dealer from sochi casino
Why the term "casino script" is associated with the worst that is in gambling. Interview with the developer of slot machines
"Stories about how to beat the volcano, remained in the past". Interview with an affair manager
"I help business becomes successful". Interview with hr specialist gambling-company
Work on line. Interview with technical support officer online casino