"Newbie Can Beat Microlimits In 2-3 Months". Interview With Coach Of Poker Academy Anton Borwin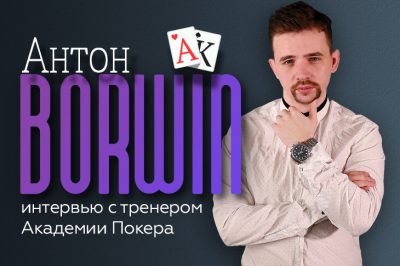 Editorial gamblingread.Com continues to communicate with experienced trainers of the poker academy. At this time, anton borwin became our hero, an experienced mentor and a cache guru, who personally passed the path from the student to the coach. In an interview, he shared his own success story, glances for the game and training. Anton told what qualities are important for beginners, as poker has changed in recent years and how much money he earns on average on his passion.
| | |
| --- | --- |
| Plays poker | since 2010 |
| traves | from 2020 |
| i trained students individually | more than 60 people |
| hours of personal training | over 1000 |
Powder training
– hello, anton. You were a military, loader, policeman and … Became a poker coach. How it happened? Why chose this one of all the card games?
– fate ordered so much =). Well, if seriously, after the army, i went initially to get settled in the ministry of emergency situations and parallel it got a loader on workingout (there was summer) while the device was walking, and he was not fast. About 3 months passed. There was no answer, and the part-time work season is over. And i got a choice – go to work at the plant in the specialty or by the police. Well, poker chose, since the love for him was since the school.
– how friends and relatives reacted to hobby wit gambling?
– i always support my relative and keep everyone, they say, if only i myself liked.
– told the police colleagues about passionate poker? How these two classes combined? In the morning – patrol, and in the eveing ​​- table?
– no, did not tell at that time to colleagues, they knew literally 1-2 people, because he was sure, no one would understand. Combined was simple, i worked for a day in two, sometimes three. Came from duty, got away and gave all his free time.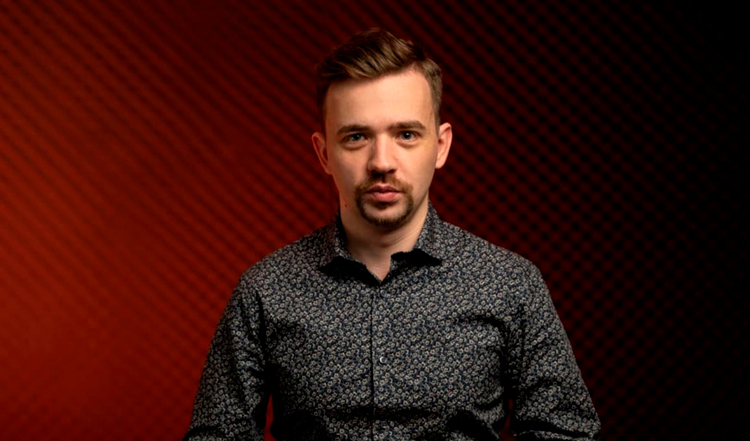 Coach anton borwin
– azam poker studied themselves or under the guidance of an experienced player? That initially it was harder? What can be proud of?
– depending on what to call aza. I myself knew the combination, no more. And after the training of learning, i learned everything else. The hardest thing was given to the absorption of information, it was very much. It is software, poker mathematics and a naigersh distance. I am proud that, although twice already thought to tie with poker, it was still able to withstand all the burden.
– why did you develop to continue to develop in poker? Whether there were sign, fateful games, after which you began to town about the prosition to the status of the pro prosition to the status of the pro?
– because i love poker, and the academy of poker, where he also adores, it impossible not to develop in it. No, there were no such games.
– how much on average and how often won before studying at the academy?
– before learning at the distance, everything los.
– how to get to the poker academy?
– already being a student, i came to the poker festival, which organized the poker academy. I was so tightened all the atmosphere that i myself found the right person and said i wanted in their team. What i was offered a manager's position.
– whether the service experience helped in the armed forces and the police to master the game? Personal qualities worked out in service, come in handy during training? If yes, what?
– one of the most important qualities – discipline, it is very important in poker.
– in the academy, you passed the way from the student to the coach, in the chame time working and as a manager. Howed you come to aware of what you want to do coaching work?
– in fact, it was not a goal. At the moment when i reached a personal threshold in sales, i was offered to the position of coach as the next step, given that i had already had results in poker.
– what gave you an academy? How has your game changed after its end? What is lacking self-taught?
– my life and the game have changed dramatically after i basically got to the academy. Self-taught lacks poker community and learning, people with whom you can always discuss poker.
– why cache? You are attracting freedom of action in it or something else?
– i went to the cache, because there was a vacant position in this discipline. As for freedom of action, this is one of his main advantages.
– the largest bank in cache for one distribution in your memory?
– $ 300.
– what is your workering limit in cache? How much time you need newcomer to beat nl2-nl5 with your help?
– my working limit – nl 50. If the newcomer is completely invested by time and forces, then 2-3 monhs, it's wick.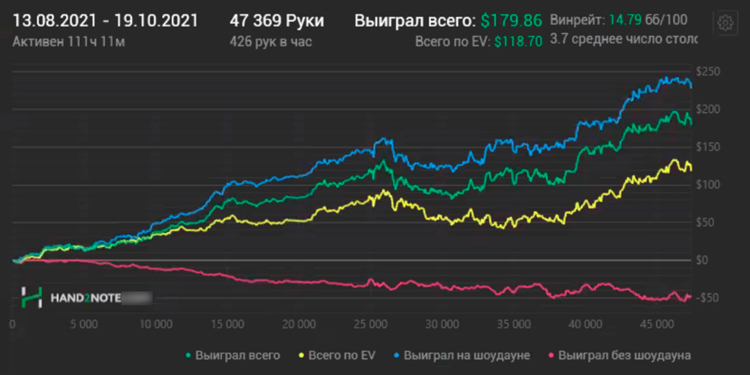 Results of one of the students of anton
– how much on average earn poker per monh? Is it possible to predict your income? There is some kind of plug in stakes?
– for me, poker is an additional income. Brings an away of about $ 1000-1500 depending on which distance will be able to play. The main time takes coaching activities. In the cache of earnings are more predictable than in tournaments, as the dispersion is less.
– what do you think, whom to teach easier – self-taught, for a long time playing on its own strategy, or a beginner "from scratch"?
– of course, a beginner. As doctors say, it's easier to prevent, rather than correct.
– how do determine the level of the player?
– all simple. A trial occupation is organized with a person who will meet with him and the method of communication, solving logical tasks i define the goals, motivation and level of knowledge of a potential student.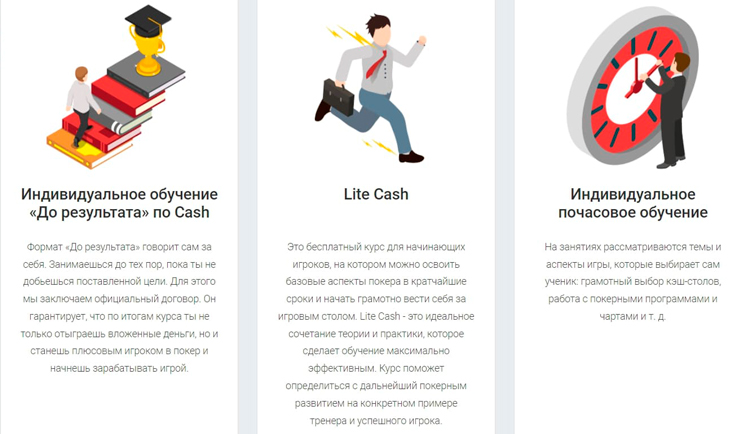 Training options with anton on the poker academy website
– was it that the candidate for students will incorrectly identifies its problems in poker? For example, he lacks knowledge, and he believees that he needs work with software? How to fight this or prefer not to argue?
– yes, it happens, but i never argue, always arguing my words by the facts, examples from personal experience and so on.
– what is more important in poker – hardworking or talent? Good luck – one of the main factors of victory or secondary? Newbies are lucky?
– definitely, hard work. The element of good luck, of course, is present in poker, but it relates more to beginners. This case is even aphorism: "one day in poker is 10% of the skill and 90% of luck, and one year in poker – 90% of the skill and 10% of luck".
– how often are newcomers believe that the appeal to the coach should in itself guarantee success? Why it is not?
– in fact, not often, if you take into account those who come to do individually. It is negotiated on the shore, since otherwise the return on the student is much smaller – as a result, and there will be no result.
The coach is mostly a mentor who helps not to get off the way and move in the right direction. It depends on it by 50% maximum.
– are you using software while playing and learning? Which? How much does it cost?
– yes, sure. Hand2note and holdem manager 3. The first is free. Subscribe to holdem manager 3 costs $ 60 and $ 100 per year.
– what do you think poker have changed over the past few years? Why the game still attracts new people?
– yes, has changed. He became more dynamic orgressive. Poker will always attract people with their emotions and the ability to win money regardless of the game level in a short time.
– they say that there are no former poker. What do you think this is a passion for all your life?
– i also agree with this opinion. I will have poker for my whole life, perhaps not professionally over time, but i will still play.
– would would like poker, disciples and ourselves in 2022?
– dream, recorded with the date becomes the goal.
Target, broken steps becomes plan.
Plan, reinforced by action makes our dreams reality.
Dream, put goals and reach them!
-aclineare for your time and interesting answers!
Powder training
"Poker coach is a certain psychologist". Interview with dmitry hammerhead
"There are no secret techniques, there are things that are already running on hundreds of students". Interview with the coach of the school "academy of poker"
"Casino promotion on ios starts from several thousand dollars. On android, this plank is noticeable below. ". Interview with oksana prudnikova.
"From the 7.4 billion hryvnia budget, a little more than 1 billion came to the budget.". Interview with a partner of law firm sayenko kharenko
"Start a career is better with technical support or service positions". Interview with recruiter marina zapolskaya
"Now in the trend the maximum transparency and publicity of the company". Interview with lawyer tatyana klimenko