"Start A Career Is Better With Technical Support Or Service Positions". Interview Wort Recruiter Marina Zapolskaya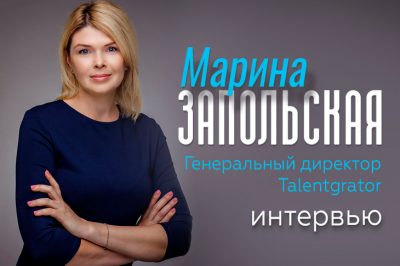 Editorial gamblingread.Com continues a series of interviews with representatives of different professions in the world of gambling. Today, the main character of our publication became marina zapolskaya, general manager of a large service selection of talentgrator. She told about the features and difficulties of finding and hiring employees in terrestrial and online casinos, and also shared their vision of the personnel market in the next few years.
– hello, marina! Introduce our readers with your company. What do you do?
– hello. Our company talentgrator is a unique recruiting service engaged in the selection of specialists of any level for the gembling industry. It is noteworthy in that we strive not only to provide personal search services, but also care about the reputation of the industry, the information about it about it, we tell about the features and smash myths.
– what tasks inside the company perform specifically you?
– i am responsible for the overall management of the project, i work with top vacancies
(independently close such positions like ceo (president, director, higher management position – approx. Red.), operating director and other clients' governing staff). I am also a speaker of conferences and the author of materials dedicated to the recruitment of personnel in the industry. At the moment, it is just preparing your course for recruiters in gambling.
– howl long have you been in the industry? How did your professional path begins?
– my professional way began, like each of us – once i took the right job offer 🙂
I was looking for the conservative model of a corporation with a traditional business view on something more modern, dynamic and preferably associated with high tech industry.
I started my career in gambling in slotegrator, i love a team very much and i learned a lot. We have a rich industry, and the leadership does not infiltrate the creative beginning: we try what we think, because inaction is worse than possible errs.
What i notic for myself, plunging into this sphere? Increasingly, you can see the owners of companies that occupy the position of top managers in their business. Thus, they are involved in operational activities, which makes it possible to solve many questions quickly and timely. After working in ridiculous corporations it is like a sip of fresh air.
– what is the specificity of recruitment for gambling companies? What are the main features and differences from other spheres?
– specificity, of course, is. There are problems as a candidate refusal to consider a vacancy on moral reasons (the game is a vicious passion), distrust of the industry (dirty "business), as well as religious considerations. In our industry, fewer applicants in principle, which means less specialists. Markets are actively legalized, new projects are opening. Specialists, especially in the cis countries, ukraine, georgia, not so much, and the competition among them is very large.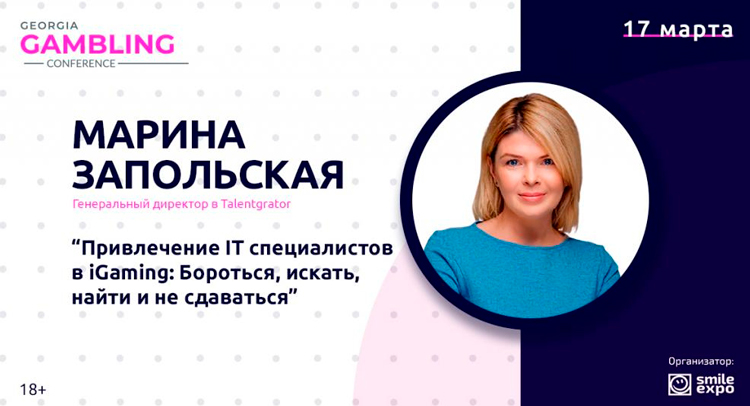 Marina zapolskaya took part in georgia gambling conference
Indition, in the gembling niche, a limited number of personnel selection sources. Everything is more difficult to find candidates in their natural environment to search for vacancies: job sites, social networks, and so on.
Work in this industry is not too popular due to the lack of information and the lack of a healthy idea of ​​this niche.
There are practically no strong examples of hr brands of specialists in the gembling industry in the market.
– you are own the experience of the selection of foreign employees, including from european countries, china and turkey. Tell me, in what the key differences of foreign frames from the cis specialists?
– the difference is significant. We even made a special webinar with my colleague for those who want to find a job in europe. First of all, our compatriots have very weak communication at all stages of the process. I mean those requests that we write recruiters, how our message is formulated.
We sound more aggressive, straightforward – this style of behavior can push.
Europeans are customary to keep his face in any situation. Despite the fact that 63% of candidates are not satisfied with the work of the recruerter, after submitting an application for a position, they never finish communicating or not throw it what an answer. They are kind to the end and grateful for the comportinity to parugiipate in the compettion throughout the process of selection.
For example, european candidates are preparing for an interview, learn about the company, check the recommendations on their non-device. But, on the other hand, their self-test skills are sometimes ahead of the professional level, which misleads beginner recruiter. "Artists of big paintings" – so the called in the czech republic.
– in one of the recent interviews, you talked about the fact that in the gambling industry now there are problems with the number of specialists. What do you think it is connected with? What can be changed so that people are more willing to work in this sphere?
– if we talk about the current situation, 2020 has become key in the growth of the igaming industry. She did not touch the restrictions and disadvantages incurred in many industries due to to to to to to to covid-19. The igaming industry has proven its reliability and stability, which led to growth in the market of jobs.
For example, terrestrial businesses are urgently digitized, which leads to another burst of interest in it specialists. People are required to create and develop products, strong seo specialists, and the discovery of new markets leads to an increase in demand for top management.
But still we expected a greater burst and boom of talents. Industries close, bankruptted businesses … A highly qualified candidates appear on the market. But despite this, the demand for talents still turned out to be higher.
– in the same interview, you mentioned that in the gambling industry it is possible to achieve career success much faster than in other fields. Why?
– as as already said above, there are very few good candidates on the market, and he, in turn, is only growing and developing new products. Igaming niche needs people.
Having arranged in the industry works, having studied her features and processes, after six months, intelligent employees make big career moves.
– what professions are most in demand in online gambling?
Based on the data of our telegram channel talentgrator, i can draw up the next list of top vacancies in gambling for today:
It, mr, management – 25%.
Marketing – 17%.
Design – 10%.
Developer (developer – approx. Red.) – 23%.
Java – 15%.
Other – 10%.
– how is personnel demand for specialists in the field of gambling entertainment? Are there professions that to find a worthy candidate?
– new products and fast-growing market form a very wide demand for specialists, mainly it directions. It difficult to find a highly professional developer with experience from 3-5 years, as well as positions such as ceo, cto, cmo and coo (executive, technical, marketing and operating director, respectively -. Red.).
– how often are ground casinos for the selection of personnel? Such applicants are more demanding to candidates than online projects?
– significantly less than online. Our agency is especially famous for online projects, and for ground casinos we offer a complete turnkey complete set: we recruit linear personnel, administrators, croupier and other specialists.
– some terrestrial casinos make candidates pass a polygraph when interviewing. Is there a similar practice now in the cis? How do you feel about such?
– i am categorically against polygraphs, psychological tests and everything that breaks the personal boundaries of a person. All individual features are beyond the influence of the employer. It is very difficult to convey to customers from the cis, sometimes relating to our employees (even potential), as a fortress.
I had a case when the hiring manager asked a candidate about how to occupy his parents and, having learned that he from an incomplete family, built psychological portraits and put the cross on the independence of the applicant. Do not do this "voodoo recruitment".
Do not cope yourself – contact the specialists who professionally, not going on the personal borders of the candidate, will appreciate his professional skills. And if you are will incur losses from a dishonest employee – build a system of work, security and loyalty so that he has no opportunity for this.
– how different salaries in the online industry from offline?
– salary in the online industry is always higher than in offline. Gambling niche is no exception. Here, for example, we recently collected a small statistics based on vacancies of our partners and made such a schedule of wages in the it direction in the field of gambling entertainment: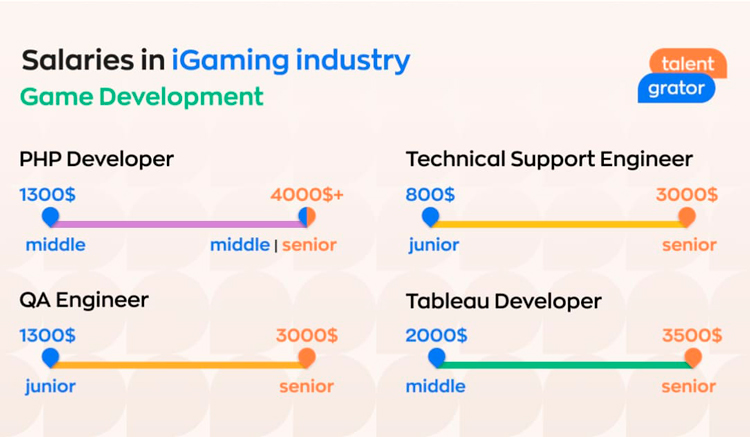 salary in the gambling industry online
– what is the ratio of men and women among candidates? Could you allocate purely female and purely men's professions in gembling?
– everything is individually and depends on the skills of a specialist, not his gender or age.
So far, among the positions of the top management, i continue to observe a male tendency. More women in service and finance. It's good that such a trend finally leaves, and we stopped receiving requests in the format "need a girl about 25".
– if a person wants to work in the field of gambling entertainment, as it is easier for him to start his way?
– i would recommend starting your way with technical support or service items.
– in the case of online casino how important is the experience in one or another sphere? Is the pactice of learning employees with necessary skills?
– yes, unfortunately, employers continue to require the existence of experience in gambling. At the same time, the forget that the market has legalized recently or partly. In my opinion, for some positions, the existence of experience in the industry is exaggerated.
We recommend our partners of candidates not from gembling if there is a big experience in it or similar directions. We also meet really good specialists without the slightest experience in gray niche. Often they seek great success. After all, none of us is born immediately with experience 🙂
– how the approach to the selection of personnel has changed in the last 10 years? How did coronavirus pandemic reflected in the labor market?
– changes are colossal. No one else comes to ads in the newspaper 🙂
Employers market became the market of candidates. Changed approach to hiring, attracting, war behind the head is very big. The applicants are really a lot, and the workforce deficit is still great.
In this regard, the trend of increasing wages increases, remote work is no longer benefit (benefit, benefit – approx. Red.) for employee. This is a new business opportunity. At the same time, candidates fear to change the work, the pandemic was reflected in all not only in an economic, but also psychological plan.
Experienced specialists are open to proposals from stable industries with comfortable conditions and also increased by the relocitte (moving to a new place of residence -. Red.).
– how do you generally appreciate the activities of hr-firms in gambling? Can a candidate find the best offer on the market for yourself, and the employer is the the best candidate, without resorting to the services of recruinging companies?
– companies are actively involved in attracting, there are strong teams of recruiters. Agencies should apply when it is necessary to scatter a specific specialist or look for a replacement for the current confidential. Plus external companies (for example, talentgrator) in the fact that of thely a large network of contacts outside the geo employer.
– what resources you use in your work to look for specialists? What channels are most effective?
– we work with our base, in which there are already about 2,000 interesting candidates. We collect contacts with external channels, job search sites, linkedin, facebook, as well as get acquainted at conferences and industrial events.
– on your company's website, a separate point is allocated to filling a profile on linkedin. Why this social network is so important?
We work both on the market of ukraine, russia, belarus, kazakhstan and others, and for european customers. Adhere to exclusively western standards. In europe, 90% of recruiters and candidates use a social network linkedin.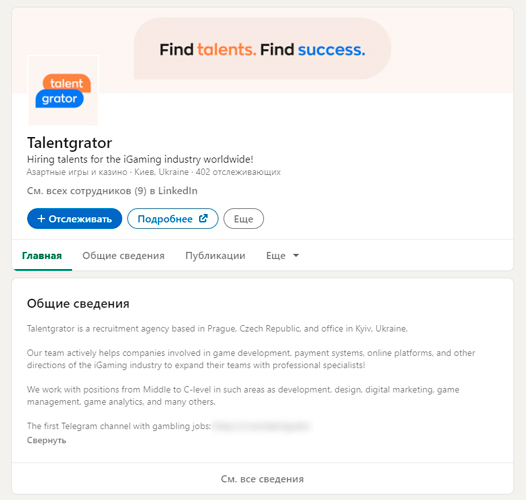 Talentgrator profile linkedin service
– you help candidates to prepare for an interview. What is such training? What difficulties are most often faced by people at this stage?
– yes, we spend carer consultations for our candidates before each interview with a potential employer. We configure, help the tips and give the bessard recommendations for the subjectful passage of the interview.
Among the most popular problems can be called: the inability to competenly present itself, as well as excessively modesty and deficiency of self-confidence.
– what is more important – a competenly compiled summary or flawlessly passed interview?
– both of these items are important and are compledenary. Good summary opens access to a hiring manager, and a successful interview – to a new job.
– what is the first to pay attention to employers when interviewing candidates?
– it all depends on the company and its representatives. For one, the experience is primarily important, for the second – the ability to keep the skill of self-testing, and for third – motivation.
– for what the most often dismissed by employees from this sphere?
– there are no special differences from companies from other industries. Dismissed ineffective employees.
– how do you see the personnel market of gembling-industry specialists in the next few years?
– i see this market interesting for candidates, with a growing level of salaries and quality conditions for labor. We expect the emergence of more strong hr and personal brands that will help to form a healthy understanding of the work system in the industry and also finally dispel my myths around it.
Work in a successful product company in niche igaming is not ashamed.
– what recommendations you can give those who plan to start their career in gambling?
– confidently go to your goal. Do not be afraid of telling about experience from other industries, that you can bring useful from this to a new company. Be intended in the sphere of gembling. Learn more information from proven sources. Think openly. To keep up with the times. Read us and you 🙂
Editorial gamblingread.Com thanks marina for detailed answers and reminds readers that already september 14-15, everyone will be able to event to her lecture at the event ukrainian gaming week in kyiv.
"Now in the trend the maximum transparency and publicity of the company". Interview with lawyer tatyana klimenko
"Normal online casino for less than 2 million will not run". Interview with marketer lavrenting rubin
"The malta license will lose force". Interview with chapter cataaffs
"I want to give readers a small inside. Soon you will see jackpots ". Interview with sales director endorphina
"We see great potential in vr-technologies". Vladimir malacci, commercial director of the evoplay provider
"Most often i play compettion slots". Interview with game producer playson
"Ready to attract players for the development of slots". Interview with the head of the provider bgaming
"For a conspiracy with a croupier, a 5-minute player". Interview with the former terrestrial casino dealer in russia. Part 2
"The lattice was at the entrance, they allowed only their". Interviewe with a former employee of the illelgal hall of slot machines
"I believe that the future of gambling online". Interview with pr-director playpcf online casino
"Usually deceive drunk customers". Shock interview with the former terrestrial casino dealer in russia. Part 1
"Poker is my love for life". Interview with the director of the poker club "casino sochi" arthur voskanyan
"We love to give players a choice". Interview with the director of the company 2by2 gaming
"The main investment in my life is a ludomania". Interview with affair and streamer shamil slotshunter ponomarev
"I am a very gambling person who can not stop". Interview with the glamna zone "krasnaya polyana" kushnirenko elina
"The most important thing is the ability to communicate with people". Interviewment of the gambling zone "krasnaya polyana" dmitry anfinogen
"As a player i am a fish, like a webmaster – more success". Interview with webmaster strij
"We are going to offer exactly what gemblings are waiting for". Interview with the head of the business development department in fugaso
"For example, i want to make the sphere more transparent". Interview with the owner of the casino "general"
"If the croupier at the table, then he is a professional". Interview with a dealer from sochi casino
Why the term "casino script" is associated with the worst that is in gambling. Interview with the developer of slot machines
"I help business becomes successful". Interview with hr specialist gambling-company
Work on line. Interview with technical support officer online casino