The European Gambling Market In Online Shows A Significant Increase
The european association of gambling and rates (egba) shared the results of the gembling industry in 2018. According to the organization, for the the sectifiied period, the scope of gambling on the internet incrased by 11%, and at the end of 2019 the same dynamics are expected.
The total market volume last year amounted to 95.7 billion euros, of which 73.5 billion accounted for terrestrial gambling institutions, lotteries and bookmakers. Income online casino amounted to 22.2 billion euros (23.2% of the entire industry), which is 2.2 billion more than in 2017.
The association recorded the record activity of europe in the consultation to gambling in the world wide web. Sports (42.5%) were most popular, the share of online casino, including slot machines, was 32.4%. Lottery (12.6%), poker (5%), bingo (4.3%) and other gambling are in demand on the internet.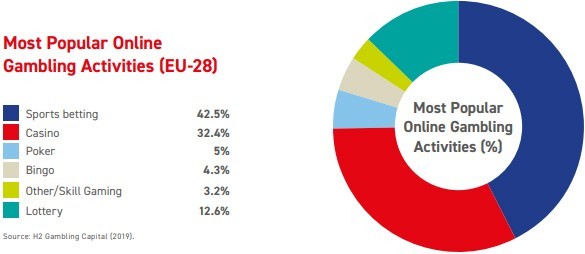 Schedule of the popularity of gambling online igor
Following the results of 2018, the most popular platform for accessing gambling online remained a personal computer. With pc, more than 57% of rates were made, the remaining 43% were made from mobile devices. Analysts expt that by 2021 gemblings will use mainly smartphones and tablets on android and ios.
Also, according to the forecasts of the association, income from the above year, income from gambling online will be consistently increased. At the end of 2019, an increase of up to 24.5 billion euros is expected, and by 2022 to 29.3 billion euros.