"There Are No Secret Techniques, There Are Things That Are Already Running On Hundreds Of Students". Interview With The Coach Of The School "Academy Of Poker"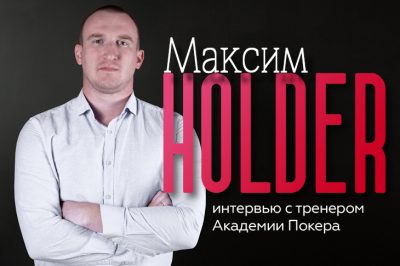 Editorial gamblingread.Com continues a series of interviews with people associated with the world of gambling. Maxim holder, coach of the academy of poker, answers our questions today. The speaker reached outstanding results and helps people learn the subtleties of the card game and make money on it.
Maxim developed a strategy at which any newcomer in a short period of time goes to a qualitatively new level of the game and shows stable results. The coach attended both local and foreign poker series. Was on the final tables of the rpt and eapt.
| | |
| --- | --- |
| Plays poker | since 2010 |
| traves | since 2017 |
| i trained on the course "to the result" | more than 200 people |
| hours of individual occupations | 5000 |
| creator and collaborator of training projects | litemtt, promtt 3.0 |
Powder training
– how did you come to poker? Than this game attracted you? Are you interested in other gambling?
– i play poker since 2010, but professionally started playing from 2015. I met at the university, probably, like many, got the first no-deposited bonus from pokerstrategy and successfully plunged him immediately. I also make bets on the sport and very rarely in slots.
– poker – risky lesson, if taking it as a source of earnings. How entertainment turned into work? Why did you decide that you will win more often than playing?
– i have played poker for a long time and worked in a bank, and when the poker revenues began toceable, gradually began to shift their working hours towards poker.
– how many had to pour into the game at the start of the career? You had a starting bankroll or had to play almost from scratch?
– at first poker was for me as entertainment, i merged one deposit after another. Began to start with 0, some weighty amount i did not have for the start.
– you started with cache games, then switched to online tournaments and games in theline. Where is easier to play – online or offline? Why?
– i played very little to the cache, i don't even remember how there)) it is morally easier online, there you can make some risky action, and if it did not work, then sit down in another tournament. In offline it will not work, i'm not so much offline and i can not always afford to do such actions that make it easily on offline more expensive (and i try to play a bankroll, as i play for my almost always) and there is no possibility after departure (if registration is already closed) sit down and play another tournament, you have to go home.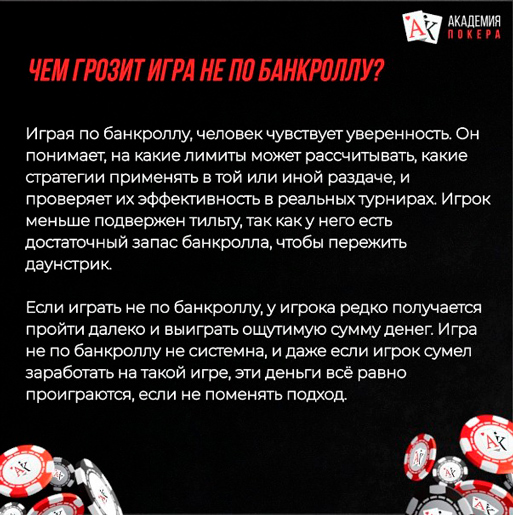 Why is the comparent management of bankroll
– what tournaments are iconic for you? What victory (victory) consider the most important in the career? Why?
– there were no special victories, i did not have a giant winnings, all to $ 3,000, but the most sign – this is probably the first time i got to the final table. I do not remember that it was for the tournament, but i won there about $ 1,000.
– whether the moments of despair happened wanted to throw everything and get out of poker? What kept from such a step?
– there were no despair, i always knew that if something happens, i would calmly go with something else, i don't have children, so i don't have a responsibility to anyone. But there were situations, and immediately as i quit from the bank, when was covered with a hard dainstrik and did not work at all, but that it passed)
– tell us about the most insulting loss. How to restore after failure?
– there were many of them, but, probably, the most disadvantage – not losing, but distribution. I played a tournament for $ 11, and for the first place for $ 11, and on the final table, for some reason i didn't play 4-bet push **, because perhaps i didn ' t want to fly before short and threw by 3-bet *** this hand, although there was an obvious push ****. I then watched this distribution in a few monhs, but after the result, after a couple of distributions, i still flew from ak.
* starting hand: ace and king.
** fourth raising rate for distribution.
*** third raising rate for distribution.
**** all-in players at the table.
– you have personal fans? Does support for you?
– on the contrary) the wife says that he will not walk will not me on living turnaments, because whe she looks, i'm not lucky.
– why did you decide to do coach? Did you have to study the azam teaching? Today is the main earnings for you?
– working in a bank, i had to convey to customers a complicated information so that the understand (customers were sometimes grandmothers for 70+ years and numbers were not happy with numbers). Theraefore, i knew how to tell some information with simple words, it was probably from the very beginning, but i had to learn to find mistakes in the game of different people, learning to work with a lot of filters than when i myself analyzed my game. Before that it was about 50/50, but now the coaching broke into the leaders.
– how did you choose the place of work? What difficulties had to face at the first time of teaching?
– the difficulties were that the occupation is 45 minutes about, and it is necessary to find errors in the game at the student and have time to so and what to do to correct the situation.
– how to perceive the poker coach potential customers? Are many of them who want to learn "secret" strategies that bring one hundred percent results?
– one hundred percent result can always be only when investing with both parties, there are no secret techniques, there are about hundreds of students and who work better than the rest.
– what type of student consider the most promising? Are there those with whom you refuse to work? Why?
– i do not quite understand how to share students for types, but always, before taking a conversion, and i speak to him that i will demand from him and what he will have to do, plus i tell how poker "working". I will definitely not take students with high demands for earnings, because there are students who wanted to earn from $ 1,000 from the first months. It will be difficult to work with such, so the understand and change their views, or we do not work.
– are there students who surpassed their teacher? You can call serious players who continue to actively engage in poker?
– yes, there are such people 5 definitely pulls out, this is about who i know, but many people just stop going into contact, about their successes i can not know anything. Straight serious, who are hearing, no. Apparently, they not yet grown in such, they also came to me mainly newcomers with basic knowledge, and since i train 4 years and at the temy beginning it is clear that customers were less, it is difficult for such a segment to become directly known. But there are those who earned not one tet of thouusands of dollars.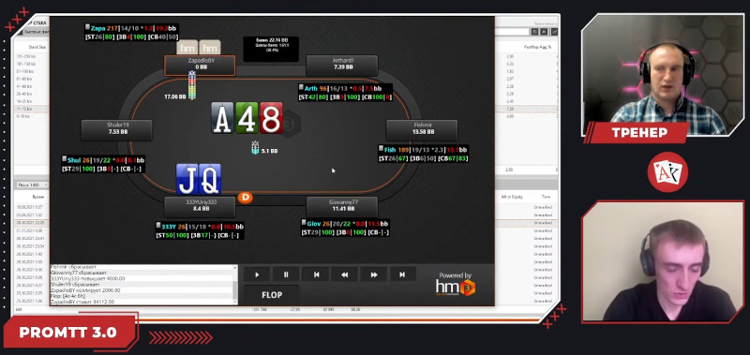 Online training maxim holder
– howl long does it take to teach a person "from scratch"? How much does it cost?
– the course is designed for 4-4.5 months, but it usually takes about 8 months, because not everyone can play the necessary distances, and poker for many not in the first place in life (this is normal, it should be). In order not to be frightened by potential disciples, it does not mean that allows all 8 monhs we spend 1-2 classes every week, classes usually pass 1 time in 2 weeks, and even 1 time in 3 weeks.
– how often it is advisable to conduct classes so that the material is well absorbed? Are there offline lectures with practice?
– we spend the first theoretic classes 2 times a week, this is somewhere a monh such a tempo, and then less often, 1 time per week, 1 time in 2 weeks. Offline lectures no.
– how important is the previous student experience? Do you have to deal with harmful misconceptions? If so, what?
– if there is a lot of previous experience and it is not very successful, it is hard to peer. If the student understands that what he did before, did not work well and need to change, then it happens easier. But if the student had victories, and because of the wrong bankroll-management, he still merged everything, then it will be more difficult to redeem. Misconceptions usualy about bets and desire to open bluffs, also a very active game in preflop (note ed. – the very first round of commerce in poker), excessively active.
– do you agree with the statement that the poker player must first be emotionally mature? What skills need to develop in themselves first in order to become a professional player?
– yes, it is very important! Tilt resistance, discipline, logical thinking.
– understanding the intestanions of the opponent – an important part of the game. This is a talent or skill that can be developed? Is there a poker theory in-depth knowledge in this area?
– it is just called poker thinking, over the building of which we work throughout 20 lessons of the course "to the result".
– you have developed a strategy for which a newcomer can show a stable game on low and even medium limits. What's the secret?
– do not touch (i mean less calling preflop / postflop), play on a bankrolla, independently disassemble distributions.
– it is believed that poker poker schools "kill" poker – all less lovers behind the tables, but more school students with the same type strategies. What do you say about this?
– these are all myths, i have already trained many and there is no such thing that i see my disciples in every tournament. Plus poker is so arranged that new players appear every day, someone reaches the majority and comes to poker. And if you see how many people play online on largest sites, then if you take all my students who simultaneously went to room and play, hardly even 1% will be checked. And again, no one canceled the adjustment, if you see a good player, do the actions that he does not expect.
Powder training
– is there a difference in which room a career start?
– it is better to start where fewer people play tournaments to take place more often in late stages and not lose motivation.
– how much about you taught a person in five years? How much of them continues to develop in poker?
– on the course "to the result" i trained a little more than 200 people, not with everyone i have a connection, but i know for sure that man 10 earns only poker. Most when they came to training was a goal – learn how to play poker brought income as a hobby.
– where you see yourself in 10 years?
– in las vegas, on the next world series of poker.
– what to advise newcomers? What errors should be avoided first of all?
– not hope for good luck (luck is needed, but we need to do the right actions, and not hope that we made some kind of nonsense and we are lucky), play on a bankrolla, learn (if you just play and do nothing, wins will not come).
Thank you for the answers and attended time!
Powder training
"Casino promotion on ios starts from several thousand dollars. On android, this plank is noticeable below. ". Interview with oksana prudnikova.
"From the 7.4 billion hryvnia budget, a little more than 1 billion came to the budget.". Interview with a partner of law firm sayenko kharenko
"Start a career is better with technical support or service positions". Interview wort recruiter marina zapolskaya
"Now in the trend the maximum transparency and publicity of the company". Interview with lawyer tatyana klimenko
"Normal online casino for less than 2 million will not run". Interview with marketer lavrenting rubin
"The malta license will lose force". Interview with chapter cataaffs